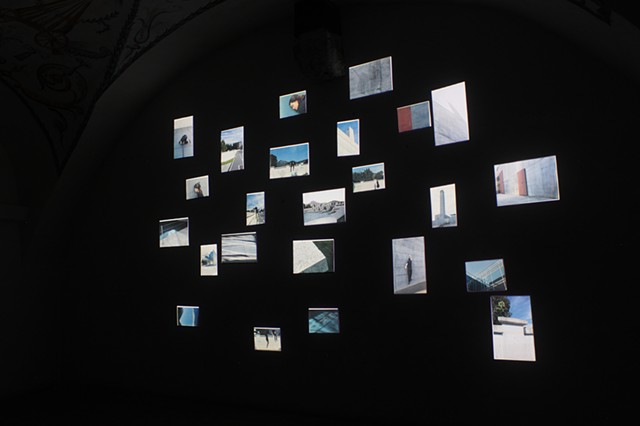 The most interesting place is the place where I cannot go
Mounted inkjet prints
Variable dimensions
2017
This work was developed in collaboration with Matt Ledwidge and Anna Maria Balint.
The viewer enters into a darkened chamber of the fortress with tall vaulted ceilings. Inside, wall-mounted digital prints are individually lit by a projection and revealed in a sequence alongside a looping six-minute text on speakers. The text and images tell a narrative sequence of four sites across the city. The text shifts in tone from description to poetic statements, based on sense perception and introspective questioning over a unitary identity. The images depict surfaces, the meeting point of structural elements, and bodies in unfinished acts of entering and traversing surfaces.
The sites traversed in the narrative are distributed across Salzburg, including: an angled glass floor surrounded by a small fence, a rough wall alongside a road, a large concrete tower with no openings, and a large concrete dam. Encountering large, nameless infrastructure and barriers to entry, the work thinks from the position of the desiring outsider, explores the agency of the collaborative group, and uses magical thinking around resonant structures in the urban and historical fabric.
* * *
The work was produced and installed at the Festung Hohensalzburg (Salzburg, AT) in 2017, during the programme "On Seeking Incuriously", led by Tony Chakar and Marwa Arsanios at the Salzburg Summer Academy of Fine Arts.